Whether you have already outlined a clear path for your next generation, are toying with the idea of selling your company (either to another business or to your employees) or you just want to hear more about the different options, the Family Business Place Northern Conference offers a fantastic opportunity to learn more about the variety of exit options available to family business owners. Jim Keeling of Corbett Keeling is delighted to be joining an impressive line-up of guest speakers, including Sir Ken Morrison CBE, who will be sharing their experiences and giving invaluable insights into their own family business journey. They will be covering some of the hottest topics facing family businesses today, including:
Passing the family business down to the next generation
Selling the business to extract maximum value
The 'Employee Ownership' model as an alternative exit strategy
The process of creating a Family Charter and implementing a governance structure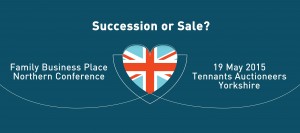 If you would like to join us at the conference in Leyburn, Yorkshire, on Tuesday, 19th May, please contact Jim Keeling.