On Friday 15 July 2016, over 350 family business leaders and entrepreneurs descended upon London's iconic Wembley Stadium for the seventh annual Red Ribbon Awards – celebrating the achievements of Britain's finest family-run businesses. After months of searching and interviewing, 11 family firms were crowned the winners of the UK's most prestigious family business accolade. With over 3 million family firms in the UK as well as hundreds of entries for the Awards, the winners had to be exceptional.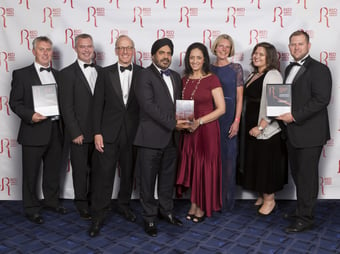 Family firm, Gold Care Homes were crowned winner of the Corbett Keeling 'Family Business of the Year' award. The judges commented "What started as the vision of two young brothers in the pharmacy industry, has transformed into a hugely-respected business with 20 care homes and over 1,100 residents. Gold Care Homes are a family firm who truly believe in taking a holistic approach and treating every patient as an individual. It's a subject we all have to deal with as we get older and it's refreshing to hear a business who's main aim is to enhance people's lives."
Two companies were "Commended for Excellence" by the judges: Harlech Foodservice and Keelham Farm Shop.
Hosted by Family Business Place, and now in their seventh year, the awards seek to recognise and honour some of the most exciting, innovative and longstanding family businesses around the UK.
From 200 year old cheese makers in Yorkshire to second generation perfumers in London and sibling start-ups in Devon, the awards have become one of the most sough-after accolades in business. Amalia Brightley-Gillott, Director of Family Business Place says, "Family businesses are the shining stars of the British economy and the beating heart of our local communities, employing 1 in 3 people. Despite their incredible contribution they are often modest and shy about publicising their achievements and so we founded the Red Ribbon Awards to celebrate them. This year's winners are national champions who all excel in their field and are true beacons of British commerce."
To find out more about the Red Ribbon Awards and see a full list of winners visit https://familybusinessplace.com/events/red-ribbon-awards/